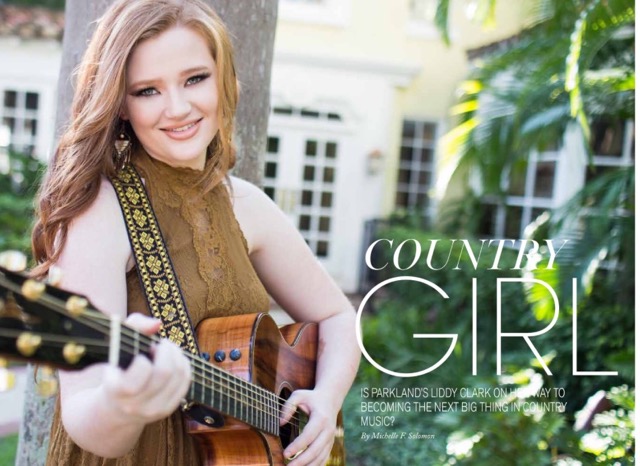 Liddy Clark
Liddy Clark is an eighteen year old country singer/songwriter from Parkland, Florida, who captivates her audience with keep-it-real lyrics and trailblazing sonic landscapes.  Her music blends a youthfulness and "ain't-scared" attitude, topped-off with a definitive hallmark vocal that has led to over 325K Social following.
Her story starts with the ability to craft a song.  Songwriting runs in the family, as Liddy's cousin Drew Womack (Sons of the Desert) penned 9 top-10 Billboard Country songs including Kenny Chesney's #1 smash, "She's Got It All".  A natural storyteller, Liddy blends her gritty lyricism with the modern sounds of country music, resulting in a unique sound that feels like home for her.  She spent three summers at Berklee College of Music in Boston working on her craft where she was honored to have been selected in the highly competitive Performer Singer Songwriter Showcase at the Berklee Five Week Program.
Over the past 6 months Liddy has seen her brand and music championed by the biggest purveyors of talent in the music industry, including spotlight opportunities from Disney where she made her CMA Music Fest Debut on the Radio Disney Country Stage in Nashville, TN.  In rarefied air for artists of her age, these opportunities, paired with a work ethic that sees the fiery red-head churn out two to three hour sets regularly, have proven her as a welcome addition to the global music scene.
From a touring perspective, Liddy performs nationally and throughout South Florida, and has performed in shows with Joe Nichols, Chris Stapleton, Hank Williams, Jr, Jake Owen, Josh Turner, Craig Campbell, David Nail, Scotty McCreery, Chase Bryant, Eric Paslay, and Taylor Hicks.
She has also been invited to play at Loretta Lynn's Ranch in Hurricane Mills, TN, 99.9 FM KISS Country Chili Cook Off in Miami, FL, NASCAR Championship Weekend in Homestead, FL, 103.1 FM WIRK Rib Round Up in WPB, FL, St. Martin's Cattle Baron's Ball, The Song Suffragettes in Nashville, TN, Major League Baseball games, and for many charities including Wounded Warrior, American Cancer Society, Miami Dolphins Cancer Challenge, Make-A-Wish Foundation, Junior Achievement and Equine Assisted Therapies.
Beyond her music, she has also been chosen by Seventeen Magazine as a Social Influencer with the "Seventeen Social Club", and tabbed by Seventeen to be the first-ever Seventeen PROStyles Twitter and Instagram Takeover participant in country music.  She has appeared in print ads for national brands American Girl,  Scholastic Book Club, as well as an X-factor commercial with industry innovator Simon Cowell.
Liddy's effortless blend of trailblazer bravery and girl-next-door sincerity have forged a strong image that connects seamlessly with music lovers everywhere.  Fans can head to their favorite social media sites to keep in touch with Liddy Clark!
Past Recent Major Shows:
Wild West Night with Josh Turner, Bergeron Ranch, Weston Florida (March 2015)
Major League Baseball, Jupiter, FL (April 2015)
With Taylor Hicks, Pompano Beach Cultural Arts, Pompano Beach Amphitheater, Pompano Beach, FL (June 2015)
Hand picked to represent Broward Country as the only Country Band for it's 100th Year Birthday Celebration (Duende 100) (October 2015)
With Joe Nichols and Chase Bryant (WIRK 103.1 FM) Jupiter, FL (October 2015)
With Scotty McCreery (WIRK 103.1 FM) West Palm Beach, FL (November 2015)
NASCAR End of Championship Weekend, Homestead, FL (November 2015)
Clematis by Night, City of West Palm Beach, FL (January 2016)
KISS Country Chili Cook Off, 99.9 FM Miami with Maddie & Tae; Dan & Shay; Chris Young; Jake Owens, and Little Big Town, Pembroke Pines, FL (January 2016)
Wild West Night with Jake Owen, Bergeron Ranch, Weston, FL  (February 2016)
Miami Dolphins, Cancer Challenge Kickoff with Sheryl Crow and Melissa Etheridge (February 2016)
Rib Roundup at WPB Amphitheater, WPB with Hunter Hayes, Chris Lane, Granger Smith, Dylan Scott, Michael Ray, Frankie Ballard, Parmalee (WIRK 103.1 FM)(March 2016)
Cattle Baron's Ball, Martin County, FL (April 2016)
Radio Disney Country Fan Fair X Stage, Nashville, TN (June 2016)
Fourth on Flagler, July 4th, West Palm Beach, FL (July 2016)
Billy Bob's Texas, with Justin Frazell's Red Dirt Road Syndicated Show, The Ranch 95.9 FM, Fort Worth, TX (August 2016)
West Palm Beach Amphitheater with Chris Stapleton and Hank Williams, Jr. (August 2016)
"On the Waterfront" with Craig Campbell, City of West Palm Beach (September 2016)
Song Suffragettes, The Listening Room, (October 2016)
Feeding South Florida, City of Parkland Amphitheater, (November 2016)
With David Nail, Renegades, West Palm Beach (WIRK 103.1 FM) (December 2016)
With Drake White and Jutt Huffman, West Palm Beach, FL (January 2017)
Liddy is a regular performer at "Big Rooster's Southern Table" in her hometown of Parkland, FL and a member of the Country Music Association, Nashville, TN, a BMI songwriter, NSAI member.
Schedule
Liddy Clark Links