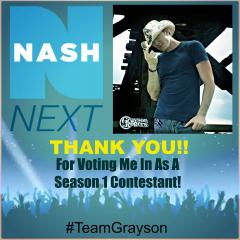 It was announced today that Grayson Rogers will be a finalist on the first season of Nash Next, a new talent competition launched by Cumulus Media that is much like NBC's The Voice or American Idol, except this competition is run online and through Nash-FM radio stations nationwide.
Fans will be able to judge the entrants through a series of challenges running through November 2015; winners will be chosen based on social media activity, fan voting on the contest's website, and the decision of a panel including judges KIX BROOKS, CUMULUS EVP/Programming and Content JOHN DICKEY, and producer JAMES STROUD. The winner will be signed to the NASH NEXT label and the top 10 will participate in a national concert tour in 2016.
Grayson finished the audition period at number 23 on the Leaderboard, and was chosen as one of the Top 100 Contestants to move into the challenge. Challenge #1 begins on August 14th consisting of a video cover song performance. Voting for Challenge #1 will be held August 26-27, 2015, where the Top 85 contestants will move forward into Challenge #2.
Grayson Rogers has been popping up all over the country music scene over the last year since the release of his debut album, All Fired Up in September 2014. Grayson's current hit single "Angel Girl" has quickly gained momentum on country radio, with over 100 radio stations across the country currently adding it into rotation. Grayson performed at CMA Fest in Nashville, TN this past June and has been accepted as a member of the Country Music Association.
For more a tour schedule and more information on Grayson Rogers, visit GraysonRogers.com. His Nash Next profile can be viewed at https://www.nashnextcountry.com/bands/Grayson%20Rogers.