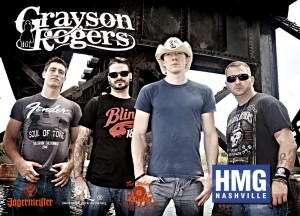 Cape Coral, FL based band Grayson Rogers proudly announced today that they have added HMG Nashville to their team as they gear up to release their first single off their upcoming debut album.
Grayson Rogers is quickly tearing through the barriers in the country music industry. With their debut album, All Fired Up scheduled for release on September 16th, there is certainly a lot of buzz around these guys that the rest of the country music scene is soon to find out.
Lead singer and front man, Grayson says, "I am both proud and excited to add HMG to the GR Team!  We had a strong team before and it's continuing to grow.  We're sure that HMG is going to help us push to new levels.  Their team is down to earth and full of good, honest people which fit ours very well.  I truly believe that we're going to make big things happen together!  Like we say, 'Go Big or Go Home', right?!"
CJ (bass/guitar) adds in, "Being a young band trying to really get out there, we've often wondered what the next step would be.  I can't imagine you just keep doing what you're doing until some big label scoops you up and tosses you into the big arenas.  There definitely had to be a next step, and, for us, signing with HMG was it.  We're so excited to get our song 'Party Rocker' out there to a national audience and have our music reach more people.  I'm eager to keep going and see where this journey takes us."
HMG Nashville is a radio promotion company that has been delivering songs to radio and providing artist services since the early 90's. With HMG's client list including George Strait, Alan Jackson, Josh Turner, Carrie Underwood, Rascal Flatts and numerous major record labels, there is no doubt that Grayson Rogers is stepping into new, uncharted territory in their career. 
"HMG and I are very glad to be part of Grayson Rogers' team. From the moment we heard their tracks, we knew we had to get their songs out there for the rest of the world to hear." HMG Nashville A&R Rep, Darlene Fowler added.
The first single off the All Fired Up album is "Party Rocker", an upbeat, foot stompin' party song about the girl that is the life of the party no matter where she is or who she's with!  It'll be hitting radio on August 4th while Grayson Rogers embarks on their first ever radio tour on August 11th.