Here's our interview with Lizzie Sider!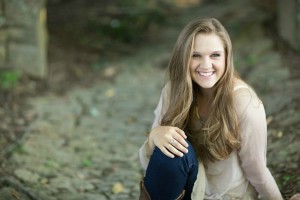 1. What is the #1 item on your Bucket List?  Someday I'd love to go zip lining in Costa Rica.
2. What is something that you are passionate about outside of music?  I love dancing.  My favorite styles are lyrical, modern, and contemporary.  My dance teacher always quotes, "Dance is a key that can unlock the soul."
3. What artists do you look up to/are inspired by?  Ever since I was very young, I've been listening to, along with my parents, artists like Tony Bennett, Frank Sinatra, Patsy Cline, George Strait, The Monkees, Foreigner… the list goes on and on. Others who inspire me are Kelly Clarkson, Taylor Swift, Hilary Duff, Carrie Underwood and Eva Cassidy.
4. If you could listen to one album for the rest of your life, what would it be? One of my favorite albums ever is the soundtrack from Dirty Dancing.  Dirty Dancing is one of my favorite movies, if not my absolute favorite!
5. If you knew you could pick your final meal, what would it be?  My mom and dad make the BEST lamb chops!  It's a team effort; mom marinates and seasons, dad grills.  With those, we have noodles and a green vegetable.  That would definitely be my final meal!
6. What is the last music (album or single) that you have purchased? Was it a CD or mp3?  The last single I purchased was an mp3 from iTunes, and it was "Let it Go" by Demi Lovato.  I think Demi kills it on vocals, and Frozen has become one of my favorite movies!
7. What has been your biggest "Wow" moment in your musical career?  In March of 2013, I filmed my first ever real music video for my song, "I Love You That Much." We shot it at Union Station in downtown Los Angeles.  I remember everything about that day: getting hair and makeup done on set, meeting and visiting with the other actors and the crew in between shooting, the cameras, funny moments, shooting locations, the onlookers, and mostly how surreal it all felt.
8. If you could pitch one song of yours to a major record label executive, what would it be?  I have a song called "Souvenirs," which I co-wrote with country artist Jamie O'Neal.  It is a beautiful piano ballad that gives me chills every time I play and sing it, and I'm always told that it has that same effect on other people.  It's a song about remembering a summer love and it totally encompasses me as an artist.
9. What is the best advice you've ever been given?  My parents have been telling me since I was very little to never stop believing in myself and to follow my dreams.  They tell me that they're proud of me for just being me, and to never lose sight of who I am as a person.  They're my best friends!
10. What else would you like our readers to know about you?  Some things I like to do in my spare time: Spend time with my parents, play with my dogs, dance, play tennis, knit (my grandma taught me years ago), read, play piano and guitar, practice the fiddle (I'm learning!), go on Pinterest, "sock surf" in my hallway, write songs, listen to music (including vinyl albums), cook, bike ride, and hang out with my friends!