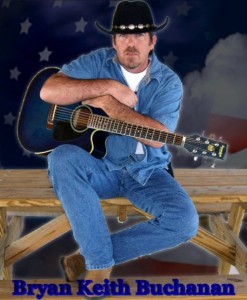 We kick off a new feature on our website that will allow you to get to know our Featured Artists a little better.  First up is Bryan Keith Buchanan, a solo acoustic performer based in Central Florida!
What is the #1 item on your Bucket List?  To skydive into the middle of the CMA Music Festival wearing nothin' but my camo spandex while playin air guitar and singin "All My Rowdy Friends!"
What is something that you are passionate about outside of music?  Huntin, Fishin…you know, all that country stuff!!!
What artists do you look up to/are inspired by?  Waylon, Hank, Charlie Daniels, Toby Keith, Travis Tritt, Jerry Reed, Blake Shelton and on and on and on.
If you could only listen to one album for the rest of your life, what would it be?  Blake Shelton's Greatest Hits.
If you knew you could pick your final meal, what would it be?  Anything with bacon on it.
What is the last music (album or single) that you have purchased?  Tom Jackson's "Keep it Country"  CD
What has been your biggest "Wow" moment in your musical career?  Receiving a compliment from my mother-in-law after hearing my CD
If you could pitch one song of yours to a major record label executive, what would it be?  Tumbleweed
What is the best advice you've ever been given?  To always drink upstream from the herd.
What else would you like our readers to know about you?  I always wear clean underwear!