The skies were looking quite ominous as I drove to the Cruzan Amphitheatre for Blake Shelton's "Ten Times Crazier" tour stop in West Palm Beach, FL, but luckily it was not a sign of things to come as the skies cleared up in time for the show without much of an impact on the pre-concert tailgating.
Jana Kramer kicked things off with a short high-energy set highlighted by her two singles, "Why Ya Wanna" and "Whiskey."  What a huge difference between this show and her last appearance on the Cruzan Amphitheatre stage in December when she had to be hospitalized after she had to shorten her set while opening for Alan Jackson.  This time around, she was all over the stage, interacting with the fans and her band-mates with a huge smile on her face the entire time.
Now that I've seen her perform live while fully healthy, I can confidently say she's more than just a pretty face (though she could give Carrie Underwood a run for the "Best Legs in Country Music" award)!  She has a great set of pipes on her and can belt a song out with the best of them.  Throw in a great stage presence and a built-in fan base from her acting career, and you've got a potential country music star in the making!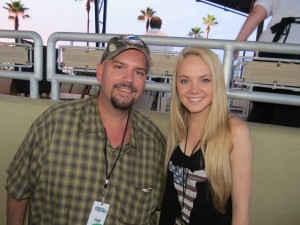 After Jana's set, I had the opportunity to meet Danielle Bradbery who was there to be a surprise guest during Blake Shelton's set later in the evening.  What a sweet and talented girl with a bright future ahead of her!
Easton Corbin was next up on the lineup.  The Florida-native played a set list similar to the one he played in February when he played at the Round Up in Davie, though it was shortened a bit.  He did a good job of mixing up his signature hits such as "Loving You Is Fun," "Roll With It," and his latest hit, "All Over the Road" with some great cover songs such as Alan Jackson's "Where I Come From," Brooks & Dunn's "Brand New Man," and Alabama's "If You're Gonna Play in Texas."  After introducing his band about halfway through, he debuted a new song titled "Are You With Me."
At one point he started talking about how he was teased about who he sounded like…knowing that everyone compares him to George Strait, he started to sing Van Halen's "Jump" instead.  He continued to tease the crowd by launching into Bruno Mars' "Locked Out of Heaven" before finally appeasing the crowd with a sample of King George's "Check Yes or No."  This led into his first (and biggest) hit of his career-to-date, "A Little More Country Than That."
The near-capacity crowd roared as the lights went down for the start of Blake Shelton's first ever headlining show at the Cruzan Amphitheatre.  He kicked things off with his hit "All About Tonight" and trucked through a few songs before talking about the "old days."  He decided it'd be best to help fans remember them by putting on a cowboy hat complete with a fake mullet before performing "Some Beach."  As he got to the last verse of the song, he humorously mouthed a lot of curse words off-mic as he acted out his would-be reaction to the Novocaine not kicking in.  It's hard to believe that it's been 9 years since I saw Blake perform at the Round Up in Davie the night that he found out that this song had hit #1.
After he finished the "flashback" portion of the show with "Ol' Red," he stopped the show to point out a couple in the front row and how they were dancing together and how the guy was trying to "get some" later.  He used this to lead into his next song, "Who Are You When I'm Not Looking."  He then performed his recent #1 hit, "Sure Be Cool If You Did" before stopping the show again to propose a toast to Country Music.
Shelton then went on to talk about his time on NBC's The Voice and how he almost didn't join the show.  He voiced his incredulous appreciation for all of the "bad ass" people he's met, from his fellow judges to the contestants.  He bragged about winning the show three times, then did a little plug for his most recent winner Danielle Bradbery's new single, "Heart of Dixie."  He even started to perform it before deciding that it'd be best if she just did it herself, leading him to surprise the crowd with Bradbery on stage.  After her performance, he played "Hillbilly Bone" before taking a seat at the end of the catwalk to do an acoustic set featuring the two "most important songs" to him.
First up he did "Over You," the #1 smash hit that his wife Miranda Lambert had that they co-wrote together about his brother.  He then had the whole venue singing along to his first ever single and his first ever #1 hit, "Austin."  This gave me chills, and it was great to see him not forget hits like this that helped him get to where he is now in his career.  He picked up the pace a bit with "Drink On It," then told the crowd that he wants to see what it's like to feel like Taylor Swift for a minute, so he asked that everyone take their phones out and hold them up while he sang his #1 hit "Home."  He closed the set out with upbeat favorites "Honey Bee," "Boys 'Round Here," and "Footloose" before closing the show with "God Gave Me You."
This was by far the best Blake Shelton concert I've attended to date, and you can see why he was named the 2012 CMA Entertainer of the Year.  He is about as big of a star as there is right now in Country Music, yet he still has an "aww, gee shucks" kind of humble attitude to go with his crazy sense of humor.  Check out some of the comments left on our Facebook page after the show when we asked our readers what they thought of the show:
I have been to a lot of concerts- he was the most down to earth person! So cool how he talked to us like we were all friends! Great guy- had a blast

Such an amazing show! He better be back next year!

Incredidible show..my favorite part is he talks to all of us lile were his good friends..love it!!!

He was wonderful-best in a long time. LOVE Blake..

He is amazing. One of the realist country singers right now!!!!

The show was awesome from beginning to end. Wish it didn't have to end!

So many great moments! I loved when he sang home and seeing the lights in the crowd.

Best concert ever!!!! Blake Shelton was Awesome:)

Red red red red redneck! Lol awesome night great concert!
If you have a chance to catch his tour this year, do yourself a favor and do it…you won't regret it!  For those of you interested, below is the full set list from his show!  What songs did he not perform that you wish he had?  Personally I wish he would have done his Conway Twitty cover of "Goodbye Time."
Blake Shelton Set List – West Palm Beach, FL – 8/31/13
All About Tonight
The More I Drink
Over
Kiss My Country Ass
She Wouldn't Be Gone
Mine Would Be You
Playboys of the Southwestern World
Some Beach
Ol' Red
Who Are You When I'm Not Looking
Sure Be Cool If You did
Heart of Dixie (Danielle Bradbery)
Hillbilly Bone
Over You
Austin
Drink On It
Home
Honey Bee
Boys 'Round Here
Footloose
God Gave Me You