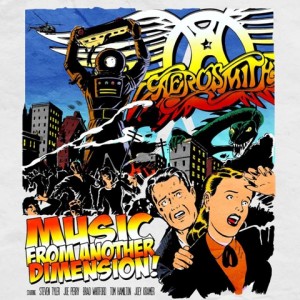 The legendary rock band Aerosmith has released a new single, and it is a duet featuring Carrie Underwood!  The song is titled, "I Can't Stop Loving You," and hails from Aerosmith's latest album Music From Another Dimension.  Could this song make it to the country charts?  In a 30-second preview, it sure sounds like it could!
This isn't the first time Aerosmith and Carrie Underwood have collaborated.  You may remember them performing at the 2011 ACM Awards together as they covered Carrie's "Undo It" and Aerosmith's "Walk This Way."
In an interview with Rolling Stone.com about "Can't Stop Loving You," Tyler said, "I sang it a little country & western…and all along we thought, should we get someone in…It was last-minute.  She [Carrie] was in town doing something.  I called her up and she said, 'I'm leaving tomorrow.'  And I said, 'Can you come over tonight?'  I called Joe [Perry] up, and the rest is history.  She just did it.  It really does work."
"It's an honor to have my voice included on an Aerosmith record," Carrie Underwood says.  "I've had a blast working with Steven a number of times in the past, and this was another amazing thing we got to do together."
Have you heard this song yet?  If so, do you think it could be a country hit?
Here's the video of their performance at the 2011 ACM Awards!