South Florida Country Music had a very busy weekend out and about, and here we will give a brief recap of the events we covered.
Thursday, March 17
We started the weekend off by attending the Kenny Chesney concert at the Cruzan Amphitheater in West Palm Beach.  This was the first show of the tour for Kenny, and his first visit to South Florida since 2008, as he skipped us on his 2009 tour and took 2010 off. Since it was a Thursday and most people couldn't get out of work early enough, we didn't do a full tailgate party like we usually do.  We did find this awesome car though: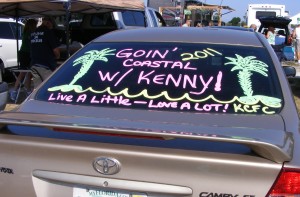 Uncle Cracker got the show started with about a 30 minute set, followed by Billy Currington, who rocked the place as everyone finished coming in from the tailgate parties in the parking lot.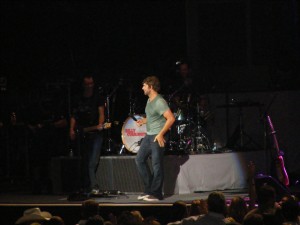 Kenny Chesney topped the night off by playing 26 songs, bringing out surprise guests such as Mishka to perform, "Don't Worry 'Bout a Thing",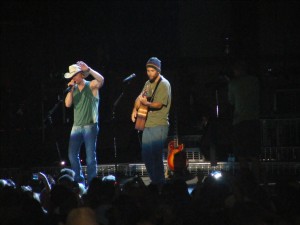 Uncle Cracker to perform "When the Sun Goes Down" and "You Never Even Call Me By My Name" and Jake Owen to perform "She Thinks My Tractor's Sexy."  It was a resounding success to kick off his tour before he moved on to Tampa for his big stadium show where he added the Zac Brown Band to the lineup.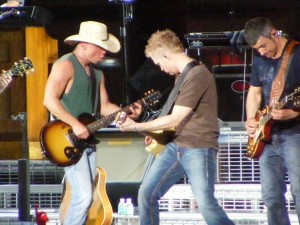 Friday, March 18
Friday night we went to Renegades to check out the new place at 600 Village Blvd in West Palm Beach.  The joint is packed with over 70 HD TV's that make it much brighter than the old Renegades (overkill in my opinion), and now has a full menu of food (we ordered Spinach Dip and Cheese Fries…food was good, but overpriced for the small portion sizes).  The dance floor seems a bit smaller than the old one, and in fact, the entire place seems smaller than the old one.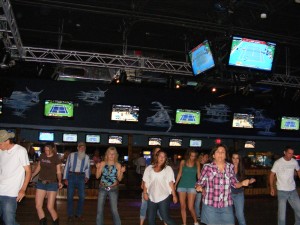 Because they serve food, they now have an outdoor patio for smokers, as smoking is not allowed indoors.  This has been getting rave reviews from the dancers, and complaints from the smokers.  There are 4 bars, with one on the patio and one on each side of 3 of the 4 sides of the dance floor.  The 4th side is where the DJ booth is as well as the Mechanical Bull.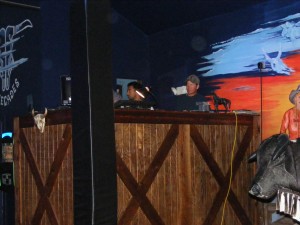 For concerts, they plan on moving the bull out and putting in a small stage, but I'm not sure if concerts will work here as the area is kinda small for the band.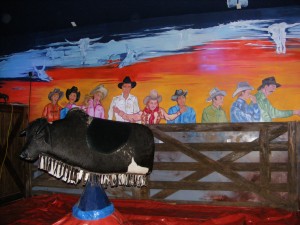 I realize this brief review seems a bit negative, but overall I did like the new Renegades.  I think the biggest problem is that I was used to going to the old Renegades for so many years, it's going to take some time for me accept the new Renegades.  They have a friendly, energetic wait staff, and a few familiar faces from the old Renegades on the bar-tending and security teams.  Woody is back as the DJ, which helps give it a feel of the old Renegades.  While I may not be used to the new Renegades, I do like it and definitely will be visiting as often as I did the old one.
Saturday, March 19
This was a whirlwind of a day.  We started off by attending The Courageous Race fund raiser show in Parkland at a beautiful park.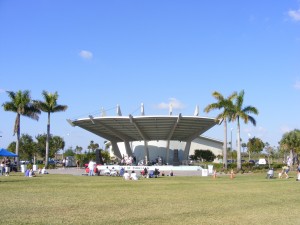 This event was a benefit for 3-year old cancer survivor, Jordyn Gourley, seen below with Amber Leigh.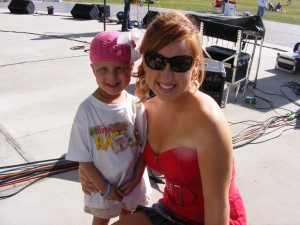 They had raised over $80,000 by the time we got there, and that was before Emily Brooke and Amber Leigh took the stage.  Hurricane Wings was there serving food, as well as a few other local businesses that provided food, drinks, a bounce house, a mobile arcade, and more.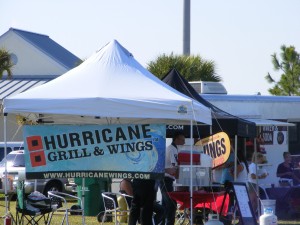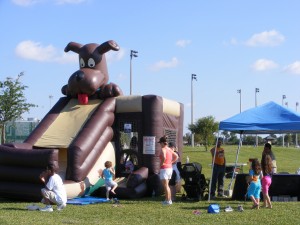 Emily Brooke opened up with a few songs in a solo acoustic set, with a couple of her own original songs, a couple of Taylor Swift covers, a Lady Antebellum cover, and even a Justin Bieber cover (I can now no longer say I've never heard a Justin Bieber song, haha).  One of her songs was a beautiful song she just wrote in Nashville especially for Jordyn.  Keep an eye on her Facebook page, as I'm hoping they'll be posting video of it soon.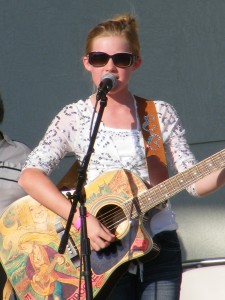 After they raffled off some really great prizes (a golf cart, golf lessons, free pizza, etc), local favorite Amber Leigh took the stage.  We couldn't stay past her first song, as we had to move on to our next event, but chances are you've seen this skilled fiddle player perform before, and know the kind of high-energy, entertaining performance she puts on.  If you aren't familiar with her, make every effort you can to go catch one of her shows sometime soon.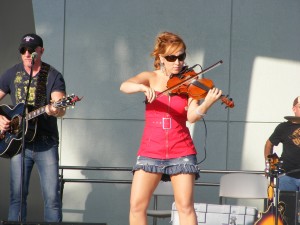 We left this benefit to head over to Sunset Cove Amphitheater to photograph the Little River Band concert, which was a benefit show for Kids In Distress of Broward County.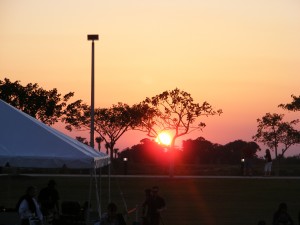 We were asked to photograph the event at the last minute, and since our professional photographer was out of town, we did our best with our amateur equipment.  We got there to find that they had brought in a professional photographer after all, so we were bumped from prime position for the Meet & Greets, reducing us to taking pictures from the corner of the room moments after the "real" photo was taken and before they disbanded for the next fan to join them.  Pictures will be posted to our Facebook page shortly, but I'm not happy with the quality of them due to the circumstances we were put in.  It was still a fun experience, and the band had nearly 100 fans come through.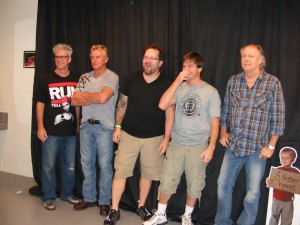 Hollywood Lovescene opened the show, which we missed most of because we were doing the Meet & Greets, but we did get to hear a rockin' cover of Paula Abdul's "Straight Up" as we noticed the beautiful full moon rising to the east.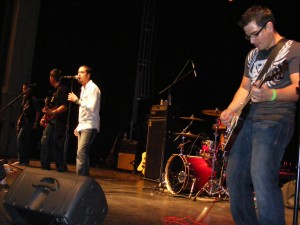 We then heard The Little River Band cover all of their classics before packing it up and heading out to our 3rd stop of the day.  While this wasn't a country event, we're always happy to help with a good charitable cause when we are able to.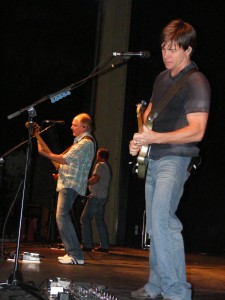 We then headed down to The French Quarter Bar & Grill in Pompano Beach to check out Slip and the Spinouts, who describe their music as "Florida Cracker Rockabilly."  While they are not exactly country, they did play "Ring of Fire" by Johnny Cash and a Hank Williams Sr. song that escapes my memory.  They also have some other classic country songs in their repertoire, but we didn't get there early enough to hear their full set.  They did play for a solid 2 hours without a break while we were there, and they did put on a great entertaining show with a wide variety of covers that had people dancing everywhere.  Definitely a fun time.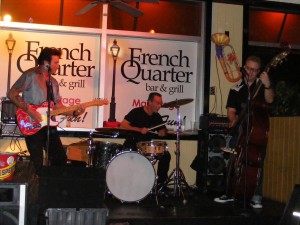 Overall, we had a blast covering these events and met a lot of great people along the way.  It was great to see Kenny Chesney again, the new Renegades is pretty spiffy, we helped out with 2 great causes and got to support a local band along the way.