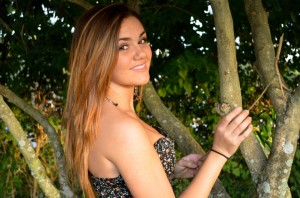 Check out the video for Lexi Luca's new song, "Doin' It For You" – a tribute to her friend Daniel Lee McCauley who passed away in February.
Here's a tribute written to Daniel that was part of the description on YouTube for this video:
Daniel Lee McCauley was an amazing person, always smiling, always giving the best advice and the best bear hugs when you were sad. He was friends with EVERYONE. Always putting a smiling on peoples faces , no matter where he was he was always making someones day. Freshman year, he's was in my gym class, on the first day of school I sat alone because I didn't know anyone. The first person I met was Danny, he came and sat right next to me and introduced himself. That goes to show the kind of person he was. Always trying to make people feel welcome, and never liked seeing anyone sad. His favorite colors are blue and orange. This year he would be a senior at Palm Beach Central High School. He played football and Wrestled, always working hard to get where he wanted to be. He was very ticklish. His laugh and that smile plays through my head all the time.He loves fishing, Guy Harvey,and absolutely loves Taylor Swift. He drove a Jeep and was proud to blast Taylor Swifts music everywhere. Febuary 22, Danny passed away in a one person car crash he was on the way to school doing nothing wrong. When he didn't arrive at school and the word was out, we all cried and screamed out why Danny Why his Family. We didn't got to class, stayed at his parking spot for hours bringing flowers, teddy bears, anything that explained Danny.It was sad to us all that something this terrible had to happen for us all to be a family at school again, for us to stick up for each other and for us to realize that you never know when someones last day can be. Don't stay mad at someone, work things out before that person leaves your side because you never know.He impacted many people. His parents got to know him more from this, they realized how many friends he had and what a great person he really was, and i know for a fact that made them happy. A wise Person once told us all "Football coaches always recruit the best of the best players for there team, and god was doing the same thing, he's recruiting his angels" Danny was one of those very special angels. Danny always wanted to be in one of my "Music videos" when I became famous. He believes in me, although you can't see him in this video, he's there, he's everywhere we go. I love you Danny Everything we do were #DOINGITFORYOU We as a school of Three Thousand kids plus,family, and friends from other schools and a lot of strangers want to make Dannys dreams come true.He loved taylor swift and a tribute concert or even a video of Taylor singing for Danny would make the world for all of us. PLEASE if you have any connections with TAYLOR SWIFT or know anyone that could help us please let me know! We have been trying to grab her attention food a very long time tweeting #DOITFORDANNY and tagging her name in it. We know Taylor is very busy but please try and help us make his dream come true, he might not be there in person but he's there with us in spirit. I love you Daniel Lee McCauley. Gone but never forgotten. Rest in paradise beautiful angel.