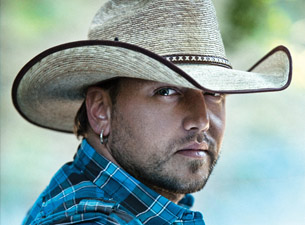 Jason Aldean and the "My Kinda Party" tour will roll into Tampa on July 15th & West Palm Beach on July 16th for one of the most highly anticipated concerts of the summer.  Jason's most recent performance at Cruzan was as the opening act for Brooks & Dunn's "Last Rodeo" Tour. If you saw Jason there, you know that the "My Kinda Party" tour is going to be an awesome show!  Jason has always called Florida another home, being that he spent most of his childhood summers in Homestead.  We're hoping he's looking forward to the show as much as his fans are.  There has been a lot of buzz around this show, not only here but nationwide.
Jason Aldean made waves in country music with his  self-titled debut album (which peaked at #6 on the Billboard Country Music charts) in 2005.  His debut single single  "Hicktown," peaked at #10 on the charts.  His followup single, "Why" was his first #1 hit.  The 3rd and final release from this album was "Amarillo Sky," which reached #4 on the charts.  Thanks to the success of his debut album, Jason was named the ACM's Top New Male Vocalist in 2006.  By 2007 Jason Aldean's first album was certified Platinum.
Jason's second album "Relentless" featured the rockin' tune "Johnny Cash" which peaked at #6 on the charts.  (Little known fact:  "Johnny Cash" was previously recorded by Tracy Byrd).  "Relentless" also produced Jason's fifth consecutive Top 10 single with the track "Laughed Until We Cried."  His string of Top 10 hits ended when the title-track "Relentless" only make it to #15 on the charts.  This album has been certified gold, the only album of his that has yet to reach platinum status.
Jason Aldean's third album "Wide Open" helped begin his ascension towards Headliner status.  With #1 hits "She's Country," "Big Green Tractor," (which was co-written by David Lee Murphy), and "The Truth," he was gaining recognition with award nominations and coveted tour spots.  This album also produced "Crazy Town," which peaked at #2 on the charts.
In 2010 Jason released his fourth studio album "My Kinda Party."  The title track off the album became Jason's tenth Top Ten single, peaking at #2.  The next single, "Don't You Wanna Stay," is a #1 hit smash duet with American Idol Winner Kelly Clarkson.  His current single, "Dirt Road Anthem," was co-written by Colt Ford & Brantley Gilbert.  Jason selected the song, much to the dismay of critics, but "Dirt Road Anthem" is the first of Jason's songs to be on the Hot 100 charts as well as near the top of the country charts.  As of this writing, it is currently sitting at #4.
The opening act for both shows is Chris Young, and Thompson Square joins the lineup for the Tampa show only.
Just like Jason Aldean, Chris Young is one of the hottest names in country music right now.  He's had 3 straight #1 hits, and his current single, "Tomorrow" is lurking near the top of the charts, sitting at #5 right now.   Chris made a name for himself by winning the Nashville Star competition in 2006, which earned him a record label deal.
His self-titled debut album peaked at #3 on the album charts, but only produced 2 singles that didn't even crack the top 40 ("Drinkin' Me Lonely" and "You're Gonna Love Me").
His second album didn't start off much better despite peaking at #6 on the album charts, as the debut single off of it was "Voices," which peaked at #37.  Just as it seemed his career was on the ropes, he released "Gettin' You Home (The Black Dress Song)" which went on to be the first #1 hit of his career.  He followed that up with "The Man I Want To Be," which also hit #1.  In a risky career move, they re-released "Voices" as a single, showing how much they believed in the song.  Sure enough, now that he had the attention of Nashville and the radio industry, "Voices" went on to be his third straight #1 hit.
Chris has been nominated for 5 awards, winning 1.  In 2007, he was nominated as the ACM's Top New Male Vocalist, then again in 2010 as the Top New Solo Vocalist.  Also in 2010, he won the CMT Music Awards "Nationwide is On Your Side" Award, and was nominated for the CMA's New Artist of the Year and for the Grammy's Best Male Country Vocal Performance for "Gettin' You Home."
"Tomorrow" is the lead single of his upcoming album "Neon" which is scheduled for release on July 12th.  With a string of hits, a new album on it's way, and his recent conversion to being a hat-less entertainer, Chris Young is a solid choice for the opening slot on this tour.