Sugarland brought their "In Your Hands" tour to West Palm Beach on July 29, 2012.  The tour featured newcomer Caanan Smith and 2011 American Idol Runner Up Lauren Alaina.  The show took a unique approach as fans could tweet, text, or emails their set-list requests; the band also took requests from signs throughout the crowd.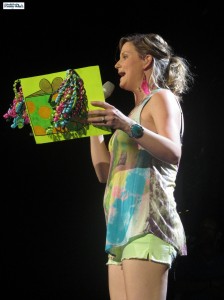 During the show, Sugarland selected Austen Miller, a 9 year old boy from Jupiter, FL to help them sing "Everyday America."
Although the Sugarland front woman, Jennifer Nettles, is nearing her third trimester of pregnancy the duo put on what some fans called "their best performance ever!"  SFCM Fan Terra H said "they sounded better on this tour than any of the other times I've seen them!"
For more photos of Sugarland CLICK HERE!