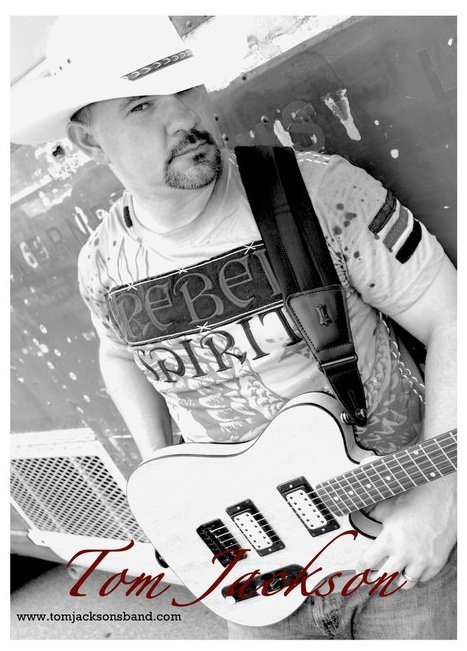 Tom Jackson
Singer, songwriter, musician…but above all Tom Jackson is an entertainer.  He compels an audience as though he has been on stage all his life.  Tom's brand of music is a new driving, aggressive country likened to a combination of Jason Aldean meets Charlie Daniels.  His high energy music and performances are best noted in songs such as "In the Sticks," a song about livin' it up in the country or "Swamp Justice" which details a romp through the Florida swamps chasing down some moonshine.  Tom's most popular songs range from the mud slingin', four wheelin', redneck anthem, "Lovin the Mud" to a fan favorite ballad entitled "First Time Again," which is a touching tribute to a love that never loses its spark.  Tom has a diverse background that gives his style of country music a rock edge that is sure to keep you on your feet. 
With his initial musical calling as a drummer, Tom wanted more, so he began to write music and found his voice both through written lyrics and on the mic.  Tom is now a powerful lead vocalist with a range most singers would die for.  His deep toned Josh Turner-like vocals can be heard bellowing out of "Southern Thang," a tribute to the "real" South Florida or "Up to the Depths," a powerful ballad with a meaning deep below the surface.  "Something Goin' On" and "She's Not the One" are two relationship songs that come straight from Tom's own past and display the warmth of his mid-range tones that have been compared to Craig Morgan.  Their meanings mirror each other in that one is a relationship where everyone says it won't work and the other is when you realize for yourself it just isn't going to work.  With a new twist on the same old cheatin' song, "It's Your Lie" is a great example of Tom's sense of humor about when a girl does the cheating.  This upbeat, in-your-face, call it like you see it kind of tune is exactly what his fans have come to expect.  After a song with cheating and lies you can move on to a new love with "Take a Look at That Girl" that has a catchy hook that will keep you humming long after your first listen.  Tom has made a lasting impression on his fans for being a captivating entertainer who is always more than willing to hang out after a show to meet and thank each and everyone of his fans. 
Whether it is a charity benefit or a major concert venue, he will always give 110%. Tom has worked with Nashville Song Writers such as Amy Chappell, Kevin Ray, George Boettcher, Jennifer Nelson and Brian Eckert. Tom recorded this album with Greg Strizek at Sound Kitchen Studio A, and Eckert Labs, Nashville TN, Produced by Brian Eckert.  Tom has shared the stage with Nashville Recording Artists Jason Aldean, Rascal Flatts, Cross Canadian Ragweed , Brian McComas, Pat Green, Jason Meadows, Little Big Town, Billy Currington, Jake Owen, Luke Bryan, Craig Morgan, Rodney Atkins, Joe Nichols, and most recently Darius Rucker.
Tom was voted as the Favorite Local Artist in both the 2007 and 2008 SFCM Awards, and the Favorite Local Male Artist in the 2011 SFCM Awards!

Schedule
Tom Jackson Websites