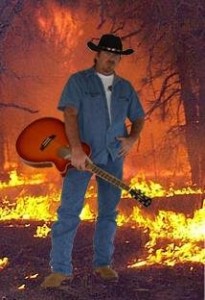 Bryan Keith Buchanan Bio
Country Music Artist Bryan Keith Buchanan's roots are firmly planted in country music.
Over the years, Bryan has traveled wherever the opportunity to perform and entertain would take him from Southern Palm Beach County to Northern Central Florida and has included many Tiki bars, clubs, wedding receptions, private parties, fairs and most recently an acoustic performance at the NASCAR Homestead International Speedway in November, 2014.
His love and passion for music has earned him a recording deal in 2008 when he released his first single "Tumbleweed", nominations for "Local entertainer of the year" every year from 2007 – 2013 and a nomination for South Florida Country Music's "favorite local male solo acoustic Artist" for 2014 with South Florida Country music fans.
Bryan's built a strong and loyal following during his years on the road, returning to the same places to perform again and again by popular demand. He's brought his popular country/rock edge to a wide variety of venues and occasions.
Schedule
Bryan Keith Buchanan Websites