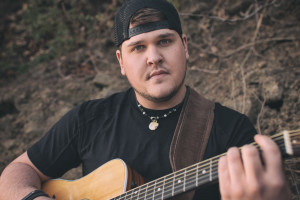 After a successful, career-launching run on American Idol, Dexter Roberts has hit the road running!  We were able to get a few minutes of his time to have him answer some questions for us just in time for you to read up on him before his appearance at this weekend's CountryLife Festival in Punta Gorda!
1. Your debut single "Dream About Me" just hit radio.  What's the reception been like from stations that you've visited?
I've been really blessed to visit these great radio stations. Everyone has welcomed me and made me feel like I belong in this industry. The reception has been fantastic and I couldn't be more pleased. It's been a crazy experience getting to travel around the country singing my music.
2. Where were you when you first heard yourself on the radio, and what was that experience like?
I was driving down the road with my buddy and another friend of ours called me and said I was on the radio! So we turned it on and frantically tried to find the right station in the middle of rush hour traffic in Tuscaloosa, AL, and barely heard the tail end of the song. Even still, the experience was overwhelming; hearing the radio jockey talk about me was a trip!
3. How would you describe your journey through the gauntlet that is "American Idol," and what did you think of the whole process?
Well, it truly is a gauntlet. You have to go through so many processes to even see the celebrity judges, and once you're there, there's yet another process you have to go through. It's a constant struggle to get onto the live show. It was an incredible experience that I'm so thankful for and it provided me with a platform to help launch my career as an artist.
4. What is the #1 goal you hope to achieve in your music career?
My goal is to always be true to myself and put out music that truly reflects who I am as a person. I really want to reach people with my writing and paint pictures that people can relate to and appreciate on a personal level. I also hope to inspire others to reach higher than the stars, set good examples on how to live and pursue their passion.
5. Outside of music, what is the #1 item on your Bucket List?
I've always kind of wanted to go sky diving. It seems like a crazy rush.
6. If you weren't doing music for a career, what would you be doing to make a living?
I would be doing the same thing I did before making it onto American Idol – I'd be farming. I would also like to open up my own wildlife management area where people can camp and enjoy the outdoors.
7. Outside of music, what is something that you are passionate about?
I really love hanging out with family and friends, and being outside in the woods and experiencing nature. I've also always been into training hunting dogs. Most of all, I just try to enjoy life.
8. What has been the biggest "wow" moment of your career?
The whole experience of being on "American Idol." Especially being the first person to make it on the day I auditioned, after waiting in line for hours and hours and watching thousands of people be sent home by the judges.
9. What are your thoughts on the state of today's country music?
At times, it feels a little contrived, but I really appreciate the artists who get out there and just be themselves. I got into music because I love playing and writing, and I think that comes through in my songs. My favorite artists are the ones who write honest music and play from the heart. That's not necessarily the template for success these days, but there are definitely some great artists out there that are the real deal.
10. What advice would you to an aspiring artist trying to make a career out of music?
Just don't ever give up on your dreams. If you have a goal, set it in stone and try with everything you have to achieve it.