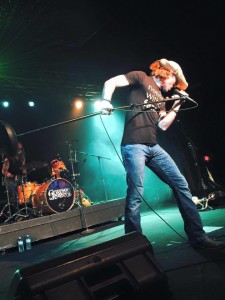 Nash Next announced the Top 85 Contestants moving on to Round 2 of the challenge, and SFCM Featured Artist Grayson Rogers, a Fort Myers resident, came in at number 20 on the Leaderboard heading into the next round!
Nash Next is the newest talent competition launched by Cumulus Media, much like NBC's The Voice or American Idol, except this competition is run online and through Nash-FM radio stations nationwide. Fans are able to judge the entrants through a series of challenges running through November 2015; winners will be chosen based on social media activity, fan voting on the contest's website, and the decision of a panel including judges KIX BROOKS, CUMULUS EVP/Programming and Content JOHN DICKEY, and producer JAMES STROUD. The winner will be signed to the NASH NEXT label and the top 10 will participate in a national concert tour in 2016.
The first challenge was a Cover Song Challenge, wherein each contestant had to choose one of three songs to perform on video and upload to the Nash Next Country website. Grayson chose to cover "How Country Feels" by Randy Houser. Fans then had the opportunity to vote for their favorite videos and then the three celebrity judges weighed in with their scores. Out of 100 contestants nationwide, Grayson finished at number 20 for the first challenge, advancing him to the next round.
Challenge #2 begins today, requiring the Top 85 contestants to write and record a jingle for the NASH brand. Fans will be able to weigh in on the last 5 words of the jingle on September 8th and 9th, and fan voting for their favorite jingle will be conducted on September 11th and 12th.
For more a tour schedule and more information on Grayson Rogers, visit GraysonRogers.com. His Nash Next profile can be viewed at https://www.nashnextcountry.com/bands/Grayson%20Rogers.