Check out our interview with Paula Tolly, one half of the duo 33 Years!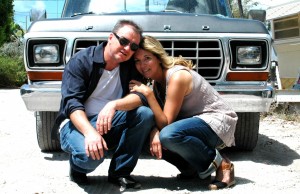 1. What is the #1 item on your Bucket List?
Hearing one of my songs while shopping at Publix!
2. What is something that you are passionate about outside of music? 
Family, Travel & Skiing
3. What artists do you look up to/are inspired by? 
Too many to mention but, at the moment, Johnny Cash
4. If you could only listen to one album for the rest of your life, what would it be? 
The Best of Andrea Bocelli  – Vivere (my kids literally grew up to this CD every night at dinner)
5. If you knew you could pick your final meal, what would it be? 
Zuppa Di Pesce with Linguini
6. What is the last music (album or single) that you have purchased? Was it a CD or mp3? 
I only stream BUT I remember having to recently replace a fresh Jimmy Buffett – Christmas Island
7. What has been your biggest "Wow" moment in your musical career? 
Getting my first tape recorder at Christmas!  I think I was about 7 years old?
8. If you could pitch one song of yours to a major record label executive, what would it be? 
Kill Two Birds
9. What is the best advice you've ever been given? 
Never give up
10. What else would you like our readers to know about you?
I've always put my family ahead of any serious musical aspirations.  Kevin (her partner in 33 Years) was my classical guitar teacher in the late 80's and, after we began dating, we realized that we would have to learn something else besides music to raise a family.  Kevin studied computer programming and I dropped out of music school and became a business major.  I can still remember walking out of Manhattan School of Music thinking, 'someday I'm going to do something with this musical knowledge…'  Never, in my wildest dreams, would I think that I would wake up one day and absolutely FALL IN LOVE with Country Music.  I finally got Kevin into it and he absolutely adores Brad Paisley!  He's VERY critical of guitar players, so I was shocked to hear him say this…..