Check out our interview with Jade Evori Master!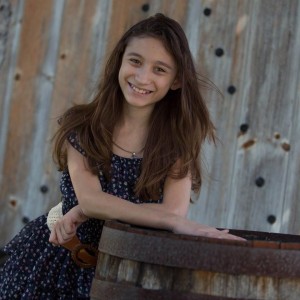 1. What is the #1 item on your Bucket List? To release my own album
2. What is something that you are passionate about outside of music?   Theater, Writing, Art, Dancing ( I love to tap) and Animal Rescue
3. What artists do you look up to/are inspired by? Carrie Underwood, Leann Rimes, Idina Menzel and Kristin Chenoweth
4. If you could only listen to one album for the rest of your life, what would it be? That would be impossible to answer, I love music of all kinds!
5. If you knew you could pick your final meal, what would it be? Baked Ziti but I love all Italian food!
6. What is the last music (album or single) that you have purchased? Was it a CD or mp3? The soundtrack to Disney's FROZEN on itunes
7. What has been your biggest "Wow" moment in your musical career? When I was 9 years old and  won Palm Beach Idol in 2010  at the Maltz Jupiter Theatre and sang "Cowboy's Sweetheart". That was my biggest wow moment because everything in my music career skyrocketed from there.  They started inviting me back every year as a guest artist and other people started inviting me to perform at their events.
8. If you could pitch one song of yours to a major record label executive, what would it be? "When You Dream" which is currently in production.
9. What is the best advice you've ever been given? I am so blessed to be surrounded by people who support and encourage me and they always tell me to keep singing and never give up no matter what.
10. What else would you like our readers to know about you?   I'm just a typical 12 year old and enjoy spending time with friends and family.   I write songs when I'm inspired  ( They all turn out to be country songs) and enjoy writing short stories and sketching.  I'm involved in a lot of  local musical theater productions and  I have performed all over South Fl as well as NY, Nashville. Las Vegas and most recently in Fredricton, Canada as a solo artist.   On my free time I like to help out at adoption events for the Big Dog Ranch Rescue.   I adopted a dog last Sept from the Big Dog Ranch and named her Little Bitty (Bitty for short) after the Alan Jackson song that I use to sing a lot.