Bron Burbank, the lead singer of County Line Road, took a few minutes to answer some questions.  Check out what he has to say!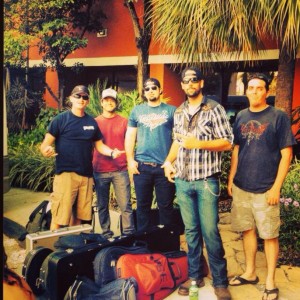 What is the #1 item on your Bucket List?  The number one item on this dude's bucket list would have to be playing at a sold out concert opening for Eric Church.
What is something that you are passionate about outside of music? This is a tough one because music is my life. But if I had to pick anything, it would be sports. I played high school baseball, basketball and football growing up… Huge sports fan.
What artists do you look up to/are inspired by? Eric effffinnnn Church, Lynyrd Skynrd, The Cadillac Three, Hank Jr. etc. I have lots of respect for any musician who writes and performs their own music.
If you could only listen to one album for the rest of your life, what would it be?  It would have to be AC/DC "Live at Donington". Such an amazing album!
If you knew you could pick your final meal, what would it be? A full rack of ribs, some collard greens, mashed potatoes, asparagus, and some of mamma's sweet tea.
What is the last music (album or single) that you have purchased? Was it a CD or mp3? "Fire Water" by Whiskey Myers. MP3.
What has been your biggest "Wow" moment in your musical career? 
#1 Getting to play on the Lynyrd Skynyrd Simple Man Cruise VII was huge. We played on the Atrium stage after A Thousand Horses – such an amazing time!!
#2 Drinking Patron with Darryl Worley on his Tour Bus in Tallahassee. He's one of the most down to earth people you'll ever meet.
If you could pitch one song of yours to a major record label executive, what would it be? Our new single, "Slow Down Train".
What is the best advice you've ever been given?  Darryl Worley told us "you can't do wrong when you're doing what's right". It's never easy being a musician; you miss birthdays, holidays, and time away from your family and friends, but if you love what you do, keep pushing forward. One day, it'll pay off!!
What else would you like our readers to know?  We just want to thank our military members and veterans for everything that you do. County Line Road supports wounded warriors and veteran/military organizations every chance we get. We recognize the sacrifices that you all make for us to be able to go out and chase our dreams. You are the real heroes in this world, and we salute you!
Don't forget to check out our upcoming album "Remember Dixie", due out in late January/early February 2014!!