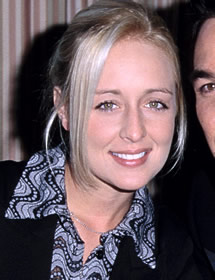 UPDATE:
From People Magazine:
The family news continues for Mindy McCready.
On the same day she insisted that, despite reports, she did not kidnap her 5-year-old son Zander, a rep for the troubled country singer confirms to PEOPLE that McCready, 36, is five months pregnant with twins.
According to reports, the father of the babies-to-be is unknown.
Police say that McCready and her son disappeared after she picked him up from her father's house in Cape Coral, Fla., on Tuesday. The songstress, who has a history of suicide attempts, a jail visit and a stint in rehab, does not have custody of Zander, but she does have visitation privileges.
"I am working with lawyers to try to get all this straightened out," she told Access Hollywood on Wednesday. "I did not steal my child, as it would be impossible for me to kidnap what already belongs to me! There never was any missing persons report and never an Amber Alert."
____________________________________________________________________________________________
Posted at 9:15am:
W.I.N.K, a Cape Coral News station has released this information so far:
CAPE CORAL, Fla. — Authorities file a missing persons report for country singer Mindy McCready and her son Xander.  Family members tell WINK News, McCready took Xander from her father's home in Lee County in the last several days.
Investigators and family members have both told WINK News, McCready took her son and left Lee County.  Now that a missing persons report has been filed, McCready has until Thursday to return with her son or she'll be arrested.
Family members told WINK News McCready took her son, Xander, from her father's home in Cape Coral.  According to court records, McCready does not have legal custody.  In May, WINK News caught up with McCready's mother, who had custody of the little boy at the time.
"Theres conflict there obviously, she is my daughter. We wish it could have been different," said Gayle Inge, McCready's mother.
It was during the custody hearing in May, that a judge said loud and clear, he wants the fighting to end between McCready and her ex, Bill McKnight, and for Xander to be with a parent permanently.
"We're not talking about a diamond earring, it's a child," said Judge James Seals.
The Cape Coral Police Department has been notified and a missing persons report has been filed.  The Department of Children and Families had an emergency hearing in Lee County Tuesday afternoon.  In that hearing, a judge gave McCready until 5 p.m. Thursday to safely return Xander to Lee County.
An Amber Alert is not being issued for Xander because officials and family members said they know Mindy McCready took her son.  Statewide, authorities are on the look out for McCready and her son.