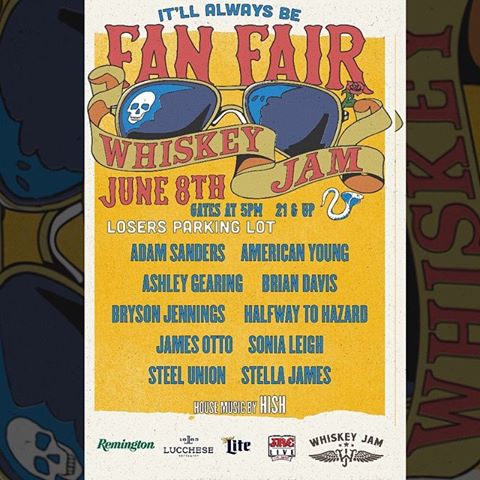 Last night was supposed to be a "night off" for me to go out and enjoy some live music with friends that I hadn't seen in a year (I didn't even bring my camera)!  I showed up at Losers Bar in midtown Nashville for the weekly Whiskey Jam event around 8:30pm.  Since it's CMA Fest week, instead of doing it inside their sister bar Winners, they had a stage set up in the Losers parking lot to accommodate the larger crowd.
Unlike most show reviews, this won't be too much about the music (which was all great, despite much of it being tunes I had never heard before from mostly artists that aren't household names), but it will be more about WHY you should make plans to come to CMA Fest in the future.  Within a minute of being there, I noticed Miranda Lambert hanging out in the corner with some friends wearing a red shirt with the word "tomato" on it as I scanned the crowd.  It was a brief glimpse, as I didn't want to stare, but I whispered to my friend who looked over and confirmed it.  Holy crap!
She didn't hang out in the crowd for long, as she proceeded to head into the VIP area and out of sight for the rest of the night.  But she was there, just hanging out like a fan!  After the buzz died down in our area, the focus was back on the stage, where Adam Sanders was performing Cole Swindell's hit "Ain't Worth the Whiskey," which he co-wrote.  Sure enough, half way through the song, he brought out surprise guest Cole Swindell to sing along with him!
As the night went on, we were on high alert for other stars that might've been hanging out in the crowd, as they often do at this event, and we weren't disappointed.  We then spotted Joel Crouse hanging out, as well as several scruffy dudes that we presumed were traveling musicians that play for the stars, or so we'd like to think!
After running into a friend from South Florida, I then noticed Michael Ray walk in.  A former local artist from Florida, he is enjoying great success as his debut single "Kiss You in the Morning" has cracked the top-15 of the weekly charts.  I've had the privilege of knowing him for years since before his recording contract, so it was great to congratulate him in person on his success and introduce him to my friends, who may or may not have had to wipe some drool off their chins.
Back on stage, Sonia Leigh was performing and brought up Florida's Brooke Eden and others to back her up on a song (yet another Florida connection in Nashville)!  It was nice catching up with Sonia Leigh afterwards.
The show closed with great performances by James Otto and Halfway to Hazard (remember their hit "Daisy" from 2007?).  As the crowd filtered out, we made our way to ReBar, which is two doors down from Losers.  This is another bar that is frequented by the stars, and as we walked in, we saw Dustin Lynch hanging out with some friends!
Now, all this star-watching comes with a disclaimer.  Yes, it is likely that you'll see some famous people while enjoying Nashville's nightlife during CMA Fest week, but it is important to keep your cool and not bother them when they're just there trying to have a good time of their own.  This is their personal time, not "meet and greet with the fans time," which is why we didn't approach them or bring attention to their presence while they were there.  This unwritten rule is why so many non-country music stars have been making Nashville their home…they can go out in public with very little paparazzi or fanfare.  So while we're happy to report what we witnessed, we ask that if you're ever in a situation like we were tonight, that you follow protocol and leave them be.