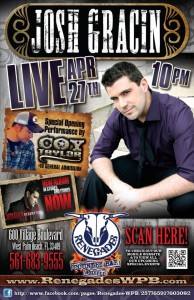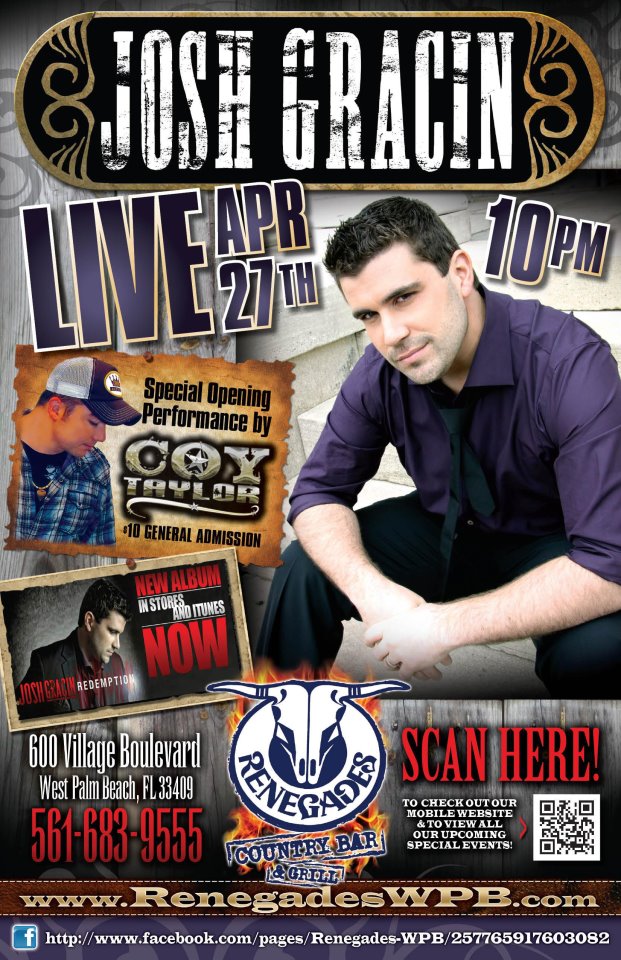 Clewiston – The Fakahatchee Band will be playing at The Tiki
Davie – It's Ladies Night at the Round Up, where you could get Free Admission if you're on their mailing list!  They're also giving away Meet & Greet passes for Big & Rich for their show coming up on May 19th!
Davie – Cowboys Saloon is having a GI Joe Party tonight
Daytona – Tobacco Rd Band will be kicking off the weekly Country Night at the Grand Opening of Stetson's on the Moon!
Ft. Myers – It's Crazy Country Friday Night at Ale Mary's
Jacksonville – Newcomer Jada Kramer will be playing at Whiskey River
Palm Beach Gardens – The Samantha Russell Band, the SFCM Favorite Local Band of the Year as voted by our fans, will be performing at Downtown at the Gardens!
Parkland – Emily Brooke will be performing for the Relay for Life charity at Marjory Stoneman Douglas High School
Sanford – The "Riding with Private Malone" singer will be playing at The Barn
West Palm Beach – Coy Taylor and Josh Gracin will be playing at Renegades!!