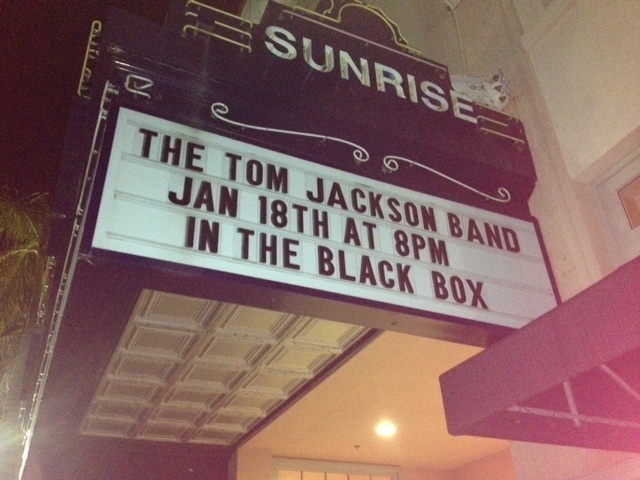 You know those lucky winners who get to see their favorite artist in an intimate setting of only a couple hundred people?  Well Saturday, January 18th we were all winners at the On the Verge Concert Series presented by Wave 92.7 and the Sunrise Theater in Ft. Pierce, Florida and we didn't even have to Tweet our friends as many times as we can in 24 hours or enter any other such contest!  No, at the Black Box Theater, the smaller venue at the Sunrise, we were treated to an up close and personal performance by two of the area's very talented up and coming country artists, Emily Brooke and the Tom Jackson Band.
The venue allows the artists and fans a chance at their own meet and greet as they mingle around the room, shaking hands and signing CDs. The room holds approximately 220 people, with high top tables around the perimeter and rows of chairs in the center.
Growing up in Wellington, Florida, Emily Brooke, is a 15 year old little spitfire. With the voice of an opera singer, she belted out such hits as "Kerosene" by Miranda Lambert, "Devil's Backbone" by The Civil Wars, "Hell on Heels" by the Pistol Annies and Cassadee Pope's "Wasting All These Tears," while also mixing in her own songs such as "Ugly Truth," which she wrote to her parents about her growing up and becoming her own woman, "Party in the Pool," an upbeat song about summer fun around the pool with your friends and ending with "Dance Hall," a song about young love.  Although young, Emily already has a strong stage presence, engaging the audience with her impressive voice and storytelling.
Next to take the stage was The Tom Jackson Band, local favorites who have played all over Florida, from Sarasota to Miami to Appoka and everywhere in between.  The members are just as diverse, hailing from Miami, Lake Wales, Okeechobee, and Belle Glade; each member is a talent on their own, mixing together to give a high energy show of boot stompin' country-rock.
Jackson is in the process of recording his third studio album, started the first of two 45 minute sets with his newest song, "Knee Deep in Country," which he co-wrote with James Breedwell, who has written several hits for Montgomery Gentry.  This song is sure to be the band's break out hit!
Moving into "Sweet Lovin Baby," a sweet song of a man smitten by love, "The Back of My Truck Bed," which describes country living at its best and "Emily" a song of lost love and regret.
The second set was made up of mostly covers, which showcased each band members' talent, from the pedal steel of Tommy Walker, to the bass of Augie Colon and the lead guitar of Cory Greenway, who could give Brad Paisley and Keith Urban a run for their money!  The set started off with "Drivin' My Life Away" and powerful instrumental version of "Ghost Riders in the Sky."  Tom proved that he is not only a talented singer/songwriter and guitarist, but a drum player too, as he joined the drummer, Myron Stewart, during "Can't You See."
This set also included a Tom Jackson original, "It's Your Lie," a longtime fan favorite about lying, cheating, and getting caught, and ended with "Southern Thang," the title track of Jackson's first studio album, which describes his way of living and beliefs.
The band's "one last song" is never enough and the crowd was yelling for an encore, so they brought up Tom's wife, Danielle, a talent in her own right. Channeling her inner Miranda Lambert, she sang "Baggage Claim," which sated the crowd, somewhat, but we were still wanting more when the lights came up, letting us know it was time to go whether we liked it or not.
It was a good night of great music in a close setting that only the "lucky ones" get to experience. My only disappointment was that I would have liked to have heard more of each artists' original work, but I have no doubt we will be hearing plenty of that in the months to come as both are on the "verge" of becoming household names.  If you have yet to see either of these artists, check out their websites for a show near you, I guarantee you will not be disappointed!