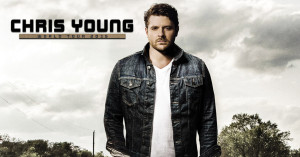 We had a chance to go to the Chris Young concert at the Broward Center in Ft. Lauderdale this Saturday night, and it was a heck of a show!  In a venue usually reserved for legends pegged in the "Classic Country" category, it was unusual to see a current star performing in a theater, but it was a rousing success.
Newcomer Mo Pitney was the opening act, and he almost stole the show!  There is a lot of buzz around this young guy coming out of Nashville, as he is a throwback to the more traditional country sound that has been forced away from today's country radio by pop country and bro country of late.
While only playing a few songs, he triggered chills no less than 4 times as he navigated through his set list of originals and covers.  Songs that stood out the most were "Clean Up on Aisle Five," "I Met Merle Haggard Today," and "Country."  If you miss country songs with meaning that evoke emotions and tell the stories of life rather than the party songs we typically hear these days, this is a guy you'll definitely want to check out!
Chris Young took the stage next and performed a high-energy 75 minute set on the spacious stage with his band-mates seemingly all in different zip codes.  After having our ear drums assaulted during the Pitney set, the sound crew got their act together for the headliner.
A very cool moment happened early in Young's set when he stopped the show for a guy that appeared to be flashing him from around the 3rd row.  Turns out the gentleman was wearing a buttoned up black shirt over a white t-shirt with a message for Young drawn on it about wanting his help to propose to his girlfriend!
Young obliged, and had the stunned couple come out to the aisle to hand the mic to the groom-to-be so that he could down on his knee and ask his girlfriend for her hand in marriage!  Of course she said yes, and Young went on to dedicate "Who I Am With You" to the couple.  Young then apologized to the guy for not doing it sooner after seeing the message, because he wanted to time it right with the love song.
One of the highlights of Young's set was his cover of Keith Whitley's "When You Say Nothing At All."  It was amazing hearing Chris Young, sounding like Randy Travis, singing a Keith Whitley song.  Another chill-enducing moment of the night!  This kicked off a run of 3 cover songs in a row in the middle of his set, with ZZ Top and Eric Clapton also being covered.
Young closed the show with a one-song encore, a cover of The Doobie Brothers' "China Grove." Young can be found singing this song with The Doobie Brothers on their recent country-flavored album of duets called Southbound.
Here is the full set list by Chris Young:
A.M.
Gettin' You Home (The Black Dress Song)
Voices
Lonely Eyes
Who I Am With You
Aw Naw
I Can Take It From There
When You Say Nothing At All (Keith Whitley cover)
Sharp Dressed Man (ZZ Top cover)
Change the World (Eric Clapton cover)
Hold You To It
Neon
You
Who's Gonna Take Me Home
Tomorrow
Save Water, Drink Beer
China Grove (encore)