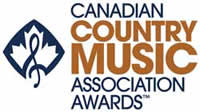 The Canadian CMA's will be held on Sunday, September 9th, and some familiar names will be taking part of the show.  Performers include Jason Aldean, Eric Church, Miranda Lambert, The Pistol Annies, as well as Canadian stars that have had varying levels of success in the United States such as Terri Clark, Paul Brandt, Dean Brody, George Canyon, as well as others that are big stars in Canada such as Johnny Reid, who leads the way with 8 nominations.
Terri Clark took to twitter to say, "Can't wait to see you all at this year's @CCMA Awards Sept 9th on @CBC! I'll be performing! #countrynightincanada"
The full list of Nominees are supposed to be posted on the CCMA website according to their press release, but at this time, the full list has not been posted yet.
We do know that Terri Clark and Carolyn Dawn Johnson, both who are well-known names in American country music, have been nominated in the Female Artist of the Year category after Carolyn Dawn Johnson wrote on Facebook, "Just found out I am nominated for Female Vocalist of the Year at the Canadian Country Music Awards this year!!! Yay!!! Along with my friends Michelle Wright, Terri Clark, Victoria Banks & Tara Oram….this never gets old…thanks to all for the nominees:) "
Congrats to all the nominees, now if only we could get this show broadcasted in the USA!