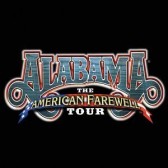 Word is that Alabama is working on putting together a reunion tour in 2012 with approximately 20 shows.  They also plan on working on some new music.  We will bring you more news of this as it happens.
In a recent poll on our Facebook Page, Alabama was the 2nd highest vote getter from our readers when we asked which group or duo did they most wish would reunite.  They came a close second to Brooks & Dunn.
Alabama last toured in 2004, with their final show being in North Dakota.  In a recent interview, they stated that they would like to finish their touring career together with a show in Alabama, as it would be fitting.  I surmised on my twitter account a couple of weeks ago that their recent success with Brad Paisley on his #1 hit "Old Alabama" might entice them out of "retirement," and now it may happen.  Let's cross our fingers that they succeed in these plans and that they come to Florida!