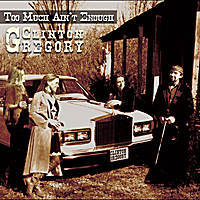 I have to be honest…when this CD came across my desk, I had never heard of Clinton Gregory, nor did I recognize the 48 year-old artist.  I did some research on him before listening to the album, and it turns out he had several singles in the early-mid '90s with moderate success, having his highest charting song, "Play, Ruby, Play" peak at #25 in 1992.  Of the 18 singles released throughout his career, only two others cracked the top 30.  While he hasn't released a single since 1995, he has spent the last 15+ years keeping busy as a session musician.
Too Much Ain't Enough (Melody Roundup Music) kicks off with a song titled, "Too Country For Nashville," and from the opening steel guitar and subsequent fiddle, you're immediately immersed in some good ole fashioned country music that brings you back to the days when country was country, not "rock" country, "pop" country, or "hip hop" country.  Gregory may be singing that he's too country for Nashville, but with the way the industry is today, he might as well be singing on behalf of many great artists from his era such as Mark Wills, Joe Diffie, Tracy Byrd, Mark Chesnutt, and Tracy Lawrence.
"You Play Like Chet" is a fun tongue-in-cheek song that tells the tale of him playing for a crowd of folks that don't speak English, so when a Spanish-speaking guy tells him he "plays like $#!&" he interprets it as "You Play Like Chet," as in the legendary guitarist Chet Atkins.
"It Took Ever Tear" is a song of heartache and how the gal he loved surprisingly left him.  This is a song that I'm sure many people can relate to, and is one of the best on the album.
The title-track of the album, "Too Much Ain't Enough" continues a theme of heartbreak and regret that is intertwined throughout this album along with songs such as "Bridges," "Has Love Taken It's Toll," "She Did," and "Chase Away the Lonely."
"If That Ain't Jones" is a great song with clever lyrics.   It's a story of a couple of songwriters that write a song that they're convinced would be a great record for George Jones.  After dropping it off at George Jones' label, it is recorded by George.  The final verse has it being played on the air and a listener calling in saying (and this is the chorus of the song), "If that ain't Jones, I'll kiss your possum!"  Great song!
If the album's sad songs get you down, have no fear, as "You Smile" is the "pick-me-up, it's gonna be alright" inspirational song that will make you feel good and bring this emotional journey to a satisfying conclusion, even with two songs left.  Consider the final two songs, "Crucifixion" and "The New" as your cool-down.
Overall, I was blown away at how good this album was considering the very low expectations I had for it.  Clinton Gregory has a smooth, soothing voice that, combined with plenty of steel guitars and fiddles, makes this a true country album well worth investing in and adding to your collection.
Score:  8.5 out of 10