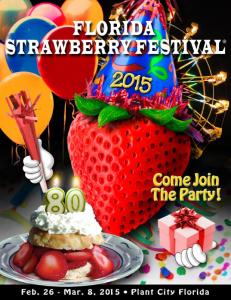 The Florida Strawberry Festival is celebrating it's 80th birthday party in early 2015, and have announced the headliners for the 11-day event!
Tickets will go on sale Thursday, December 4 at 8 a.m. Tickets can be purchased in person at the Amscot Main Ticket Office located at 2209 W. Oak Avenue in Plant City, online at www.flstrawberryfestival.com or over the phone at 813-754-1996. You will also receive a reminder email the day before that will include links to take you directly to the page for online purchasing.
As a reminder, there are a limited number of free seats available for each show in the Morrow Steel Free Grandstand located at the back of the Wish Farms Soundstage and are available on a first come, first seated basis.
*PLEASE NOTE: CONCERT TICKETS DO NOT INCLUDE GATE ADMISSION.
| | | | |
| --- | --- | --- | --- |
| Thursday, Feb. 26 | 10:30 a.m. | Jimmy Sturr and His Orchestra | FREE (with paid admission) |
| Thursday, Feb. 26 | 3:30 p.m. | Bobby Vinton | $15 and $20 |
| Thursday, Feb. 26 | 7:30 p.m. | Alabama | $40 |
| Friday, Feb. 27 | 3:30 p.m. | Mel Tillis | $15 and $20 |
| Friday, Feb. 27 | 7:30 p.m. | Scotty McCreery | $25 and $30 |
| Saturday, Feb. 28 | 3:30 p.m. | MercyMe | $20 |
| Saturday, Feb. 28 | 7:30 p.m. | Kevin Costner & Modern West | $35 |
| Sunday, March 1 | 3:30 p.m. | "Brett Eldredge" | $20 and $25 |
| Sunday, March 1 | 7:30 p.m. | Hunter Hayes | $40 |
| Monday, March 2 | 3:30 p.m. | Sawyer Brown | $15 and $20 |
| Monday, March 2 | 7:30 p.m. | Happy Together Tour | $25 and $30 |
| Tuesday, March 3 | 3:30 p.m. | Ronnie Milsap | $15 and $20 |
| Tuesday, March 3 | 7:30 p.m. | Sara Evans | $20 and $25 |
| Wednesday, March 4 | 3:30 p.m. | Ricky Skaggs | $15 and $20 |
| Wednesday, March 4 | 7:30 p.m. | Craig Morgan | $20 and $25 |
| Thursday, March 5 | 10:30 a.m. | Tommy Dorsey Orchestra | FREE (with paid admission) |
| Thursday, March 5 | 3:30 p.m. | Oak Ridge Boys | $15 and $20 |
| Thursday, March 5 | 7:30 p.m. | Newsboys | $20 |
| Friday, March 6 | 3:30 p.m. | Loretta Lynn | $20 and $25 |
| Friday, March 6 | 7:30 p.m. | Boyz II Men | $20 and $25 |
| Saturday, March 7 | 3:30 p.m. | Dan + Shay | $15 and $20 |
| Saturday, March 7 | 7:30 p.m. | John Legend | $50 |
| Sunday, March 8 | 3:30 p.m. | Parmalee | $15 and $20 |
| Sunday, March 8 | 7:30 p.m. | REBA | $50 |